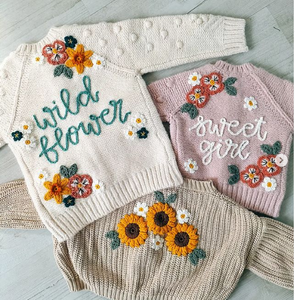 This is a non refundable deposit to claim a send in slot
AT THIS TIME I AM ONLY ABLE TO ALLOW ONE KNIT PER SEND IN SLOT.
Please make sure you have read all of the information provided on the Send in Service page as this deposit is non refundable. It will be deducted from the cost of your design.
So what happens next?
After purchasing a Send in Slot please contact me via email at thecottonshopuk@gmail.com to discuss all the details for your design and proceed with the purchase. I am happy to talk through design ideas and help in anyway possible!

Please only purchase a send in service slot if you have a knit ready to send and a clear idea of what you'd like. Designs must be confirmed and paid for within 3 days of purchasing a slot. Please ensure your knit is posted within these 3 days
I am happy for you to order a knit directly to me once designs have been confirmed and paid for. 
To reiterate, please note that not all designs are transferrable to knits smaller than 1-2 years. The size of your knit determines the text length/word count.
At the moment I am only offering appliqués I have designed previously as I have based my prices on these, I do not offer
- custom animals or florals that I haven't yet created
- personalised name knits
- adult sizes or sizes larger than 6-7 years.
Make sure your knit has a suitable work surface ie no gaps/bobbles/cable knit, and is a good quality piece of clothing (not overly washed and baggy) to ensure your design lasts well and can be sewn down as neatly as possible. 
The turnaround is upto 4 weeks.